OC Challenge Events
Follow us on Facebook for the latest EVENTS & NEWS!
PREVIOUS EVENTS
February is ovarian cancer awareness month
What's Happening?
Ambassador Cherylee & our Nurse Jo White spread awareness with Radio Adelaide 101.5.  CLICK HERE to listen to their fabulous broadcast.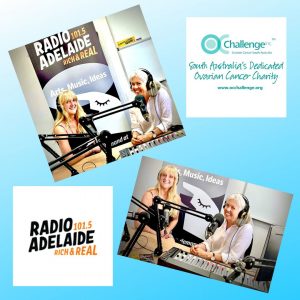 Adelaide Oval and Parliament House will be lighting up in TEAL in support of OC Challenge on the evening of Friday 17th February.
Port Adelaide/Enfield Council are using TEAL to light up Port Adelaide's St. Paul's Church on St. Vincent Street and the Wharf Lighthouse for the month of February in support of our charity
Ambassador Cherylee Crabtree and hubby Barry are climbing Mt. Lofty during February to raise awareness and funds.  Check out our facebook page to join their journey: https://www.facebook.com/occhallenge.org
Please help by spreading awareness during February and sponsoring a morning tea, dinner party, walk or run to assist these women and their families
Can you help us continue funding South Australia's first Ovarian Cancer Nurse?
We are calling on all South Australians to continue our goal of funding our first Ovarian Cancer Care Nurse and sponsor more. This is support that women diagnosed with the disease so desperately need and understand the impact this type of care and support can have on patients and their families. You can set up your own supporter page through the Just Giving website in just 3 steps.  Choose OC Challenge Incorporated as your charity 'in the search field',  proceed to create your own fundraising page, then share with friends, colleagues and family to join you.  That's all it takes to become one of our heroes and supporters! CLICK HERE to start Fundraising!
OR  if Facebook is your preferred social media platform, you can raise funds for OC Challenge Incorporated by adding a donate button to your post, begin fundraising and share with all your friends.  We are a registered charitable organisation with the Pay Pal Giving Fund Australia (no fees).
OR  if you wish to make a one off donation and receive a tax deductible receipt direct using Pay Pal, please CLICK HERE to Donate!   Best of all there are no fees associated for either of us when donations are made this way!
We acknowledged Ovarian Cancer Awareness Month at the Palais Hotel Semaphore on Sunday Funday 2nd February 2020 2pm sharing our excitement in funding Australia's first Ovarian Cancer Nurse in our own state! This was an amazing success. Thank you to all our supporters. You will be pleased to know we raised nearly $9,000 toward funding our nurse.
* City of Port Adelaide Enfield light up St. Paul's Church in St. Vincent street for us each night in TEAL for the month.
* Tuesday 25th Adelaide Oval lit up in TEAL all night until dawn for our dedicated South Australian not for profit volunteer charity .
* Our medical spokesperson Dr. Margaret Davy shared our story with Sonya Feldhoff on ABC Adelaide 891 and Tony Barca on Radio Italia Uno.
* Wednesday 26th our volunteer team set up in Rundle mall spreading awareness and sharing our passion for sponsoring Australia's First Ovarian Cancer Care Nurse.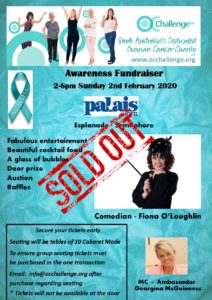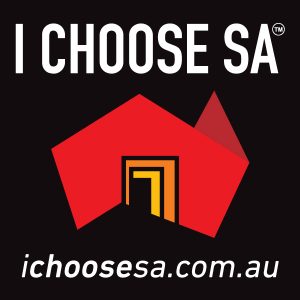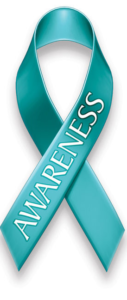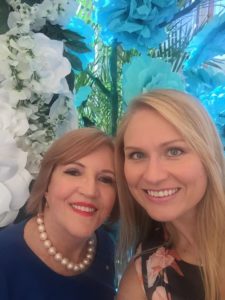 Patron Carol Martin & Councillor Barbara Clayton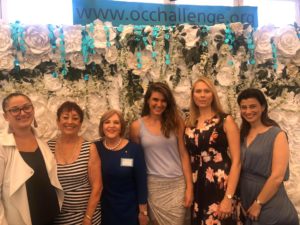 Port Adelaide Enfield Councillors and Mayor Claire Boan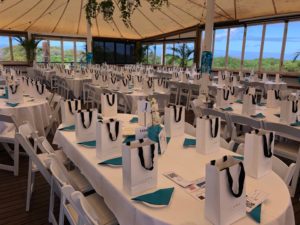 Set up and ready to go!
Ambassador Celia Latty-Steele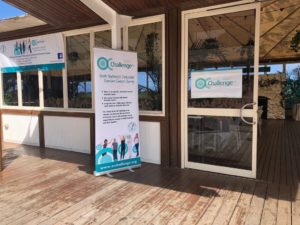 Semaphore Palais Deck function room
Fiona O'Loughlin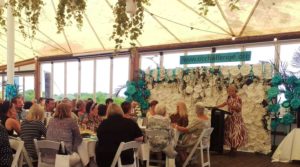 MC Ambassador Georgina McGuinness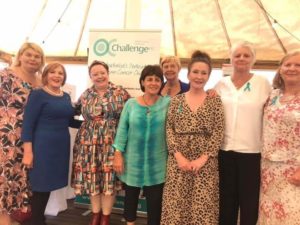 Our Volunteer Team with Comedian Fiona O'Loughlin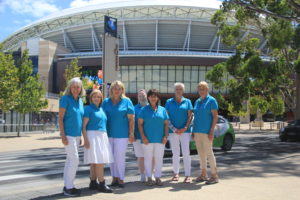 Adelaide Oval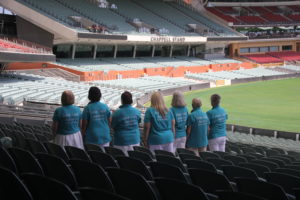 Adelaide Oval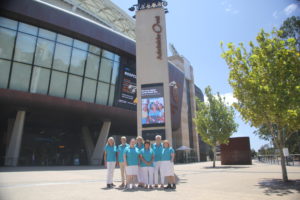 Adelaide Oval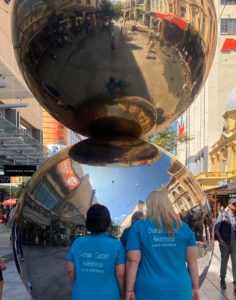 Rundle Mall's Balls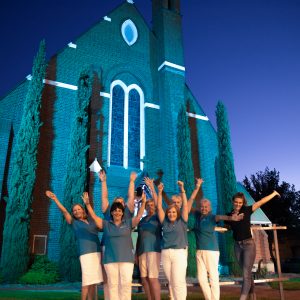 St. Paul's Church Port Adelaide with our volunteer team and PAE Mayor Claire Boan
Dr. Margaret Davy with Radio Italia's Tony Barca
The volunteer team attended one of our SA Regional Events last year in September at Riverland Field Days - Barmera Our next SA Regional Event will be: Eyre Peninsula Field Days in Cleve 11th - 13th August 2020
All our volunteers were in Barmera, raising awareness at the annual Riverland Field Days which attracts 15k people over the 2 days.  What a great experience where we spread the word of the signs and symptoms of Ovarian Cancer and spoke to over 300 people.  Many are currently fighting the disease, some have won the battle and some wanted to share the stories of mums, sisters and friends they have lost. We had both health professionals as well as women living with Ovarian Cancer on site, sharing our exciting vision of sponsoring our ovarian cancer care nurse in South Australia.  Pictured below is our fabulous 'Teal Team' setting up and wrapping up a great weekend.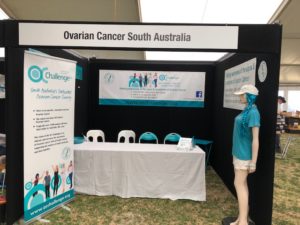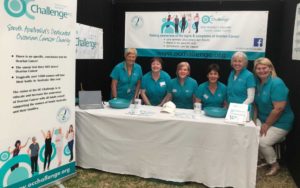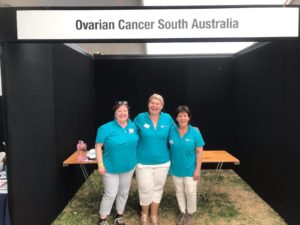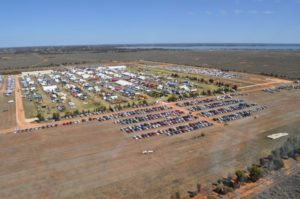 Sunday Mail City Bay Fun Run 15th September 2019
The annual Sunday Mail City Bay Fun Run in Adelaide, South Australia was on Sunday, 15 September 2019. We were a little busy to attend this year as the weekend clashed with our regional event.  A huge thank you to Jenny Lock who supported Ovarian Cancer South Australia by entering as a participant and raising funds for OC Challenge as your charity. A big shout out to all her supporters who donated via this link.  It's not too late to help Jenny who has far exceeded her goal of $500 : https://citybay2019.everydayhero.com/au/in-honour-of-amanda-oc-challenge